Car Battery Breakdown Assistance Shah Alam
We at BATERI BOSS believe that the relationship between car owners and their vehicles should be treated with the same respect and care we do with humans – with heart. In a car breakdown situation, we also consider the human factor and try to assist as much as possible. Our car battery specialists and installers are ready to provide a quick and painless car battery replacement. Our car battery technicians are within 30 minutes reach if your location is within 30KM radius from our branches. We provide on the spot delivery services in Shah Alam, Bangi, and Kuantan area. BATERI BOSS's team always ensure we offer the highest quality car battery delivery in Shah Alam at reasonable prices. Our mechanics have received ample training to ensure an accurate diagnosis and car battery replacement on your vehicle. As a result, we have many high-performance automobile batteries in stock and ready for immediate delivery to your location.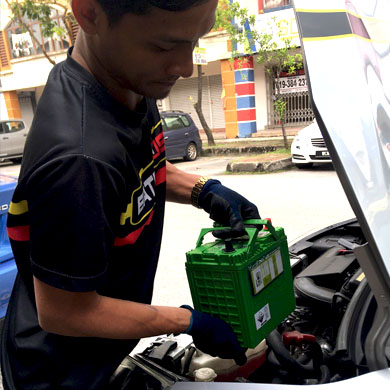 Professional Car Battery Replacement
BATERI BOSS is a reputable car battery Shah Alam based delivery service that specializes in delivering high-quality car batteries for all makes and models. We understand the importance of time. Therefore, we will reach your location in 30 minutes if you are within 30-40 km from our coverage area. Moreover, our installation procedure is hassle free. We are dedicated to providing high-quality car batteries at a reasonable prices. Contact us now!
Schedule Your Appointment Today
We specialize in your car battery service
Schedule
Schedule
Your Appointment

Today

We Specialize in Your Car Battery Service
Call: 012-550 0287