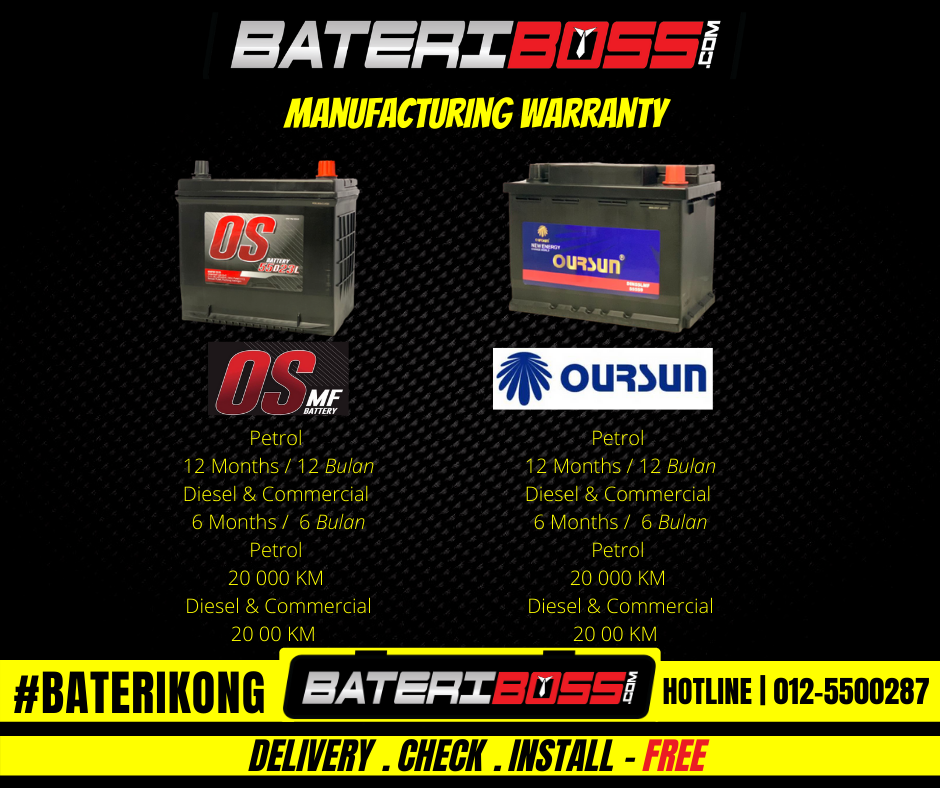 What Is The Warranty Covered By Bateriboss.com ?
Manufacturing Defect Warranty For Amaron brand batteries – 18 months or 30,000km whichever comes first for petrol passenger vehicles, or 12 months or 30,000km whichever comes first for commercial or diesel vehicles.
Manufacturing Defect Warranty For non-Amaron brand batteries – 12 months only,  25,000km or 20,000km whichever comes first for petrol passenger vehicles, or 6 months only,  25,000km or 20,000km whichever comes first for commercial or diesel vehicles.
Warranty is only on Product.
RM50.00 will be charged for the attending at customer location and delivery new or serviceable battery to the customer location.
Bateriboss.com is only responsible for the warranty coverage of the car battery sold by Bateriboss.com. Bateriboss.com shall not be responsible for any issues arising with respect to the vehicle or the vehicle warranty, as it is entirely the customer's decision and agreement to install a higher or lower specification battery.
Please be inform that any further reset of the system (if required) after replacement of the battery must be carried out by customers at their own service centers at their own cost.
What Is Procedure Of The Warranty?
Within our service coverage areas, all customers with our receipt and guarantee card as proof of payment are eligible for warranty claim service. If the battery does not work, please contact 0125500287 for warranty service.
Within our office hours, our technicians may come to service on the same day or next day on the best effort basis. While the defective battery is sent back for factory inspection, the temporary battery will be provided.
If the faulty battery is truly a manufacturing failure, the new battery will be shipped to the consumer to replace the temporary battery. Based on the original date of purchase and mileage during purchase, the replaced battery should carry the remaining warranty.
Customers are told, on notification, to collect the good re-charged battery within 7 days (Working Days)
Is there Any Charges to Get Warranty Service?
RM 50.00 For Visit At Customer Location 
RM 50.00 For Send Back New or Serviceable Battery At Customer Location. 

FOC – Free Of Charges – Walk In Directly To The Bateriboss.com Outlet.
What Is The Condition Makes Your Warranty Void?
Lost the official receipt and warranty card. 
Please be informed that the discharged/damaged battery caused by a problem with the vehicle alternator, or a problem with the wiring, or forgot to switch off the lights, or long storage without starting, or inappropriate usage of electrical accessories, or user violence, or any problems not connected to a manufacturing fault of the battery are not protected by warranty.
 Customers are responsible for maintaining proper and sufficient charging of the battery for the eligibility of the battery warranty by ensuring that the vehicle alternator/wiring is in proper working condition. We reserve the right to deny warranty statements not approved by the vehicle manufacturer for inappropriate vehicle engine/wiring modifications.
Refund Terms & Condition
Refunds: Purchases are not refundable and we will not refund or credit any of the goods or services declared unless you provide us with credible evidence to prove that you have been incorrectly billed or otherwise charged on a "particular circumstance" basis as we may decide in our absolute discretion.